Costa Rica election win for Chinchilla shows women's rise in Latin America
Laura Chinchilla won the Costa Rica election Sunday. She'll be the country's first woman president, echoing a trend across Latin America where women are being voted into high-level political office in record numbers.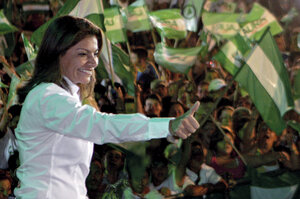 Kent Gilbert/AP
Jacqueline Campos, a lifelong resident of Rio de Janeiro, says she is not inspired by the ideas being floated ahead of presidential elections here later this year. But she still views the 2010 race as a landmark one: a woman has more than an outside chance of becoming president of Brazil.
"We women were always expected to take care of the house, and that alone," she says. "Now we have much more to offer. We might lead the country."
The election, slated for October, could see at least two women on the ballot. Dilma Rousseff, of the governing Workers' Party (PT), has the better shot at winning. She is currently chief of staff for President Luiz Inácio Lula da Silva, who is barred from seeking a third four-year term. The other female contestant is Marina Silva, a former environment minister who broke away from the PT.
A woman at the helm of the largest country and economy in Latin America would be a breakthrough for women politicians across the region. Already, in the past four years, two South American women have led their countries: President Michelle Bachelet of Chile and President Cristina Elizabet Fernández de Kirchner of Argentina. And though Ms. Rousseff is polling behind her closest male competitor, the race is being viewed as a boost to women's rights in Latin America.
---