Falkland Islands: British oil drillers reopen dispute with Argentina
British companies are set to begin drilling for oil reserves off the Falkland Islands this week, reopening a dispute with Argentina, which still lays claim to the archipelago.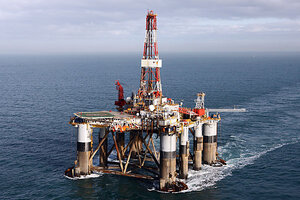 Diamond Offshore drilling/AP
It was nearly 30 years ago that Argentina occupied the Falkland Islands, attempting to reclaim by force the windswept archipelago that lies 300 miles off the coast of South America.
Argentine forces were handily defeated. But the South American nation has continued to lay claim over the islands, which they call the Malvinas, ever since.
Now the two nations are locked in a battle as British firms set out to begin exploring oil reserves this week in the South Atlantic. While no one expects a military showdown – some analysts dismiss the rhetoric as a political ploy by Argentine President Cristina Fernandez de Kirchner's administration to detract attention from domestic woes – the potential of billions of barrels of oil has sparked one of the most tense disputes since the Falklands conflict of 1982.
"The Malvinas is an issue for many Argentines, it is part of the DNA of Argentines," says Eduardo Diez, a foreign policy expert at the Argentine-American Dialogue think tank in Buenos Aires. "The Malvinas is still a nationalistic issue for many. … It's also economical: there is really a lot of oil over there."
---
Follow Stories Like This
Get the Monitor stories you care about delivered to your inbox.