Latin America leaders back Argentina over Falkland Islands stand-off
In a statement Tuesday, Latin American leaders back Argentina view that British oil drilling off the Falkland Islands is a violation of its sovereignty.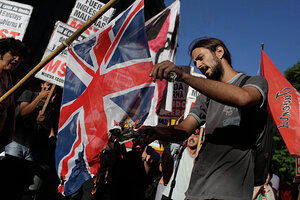 Natacha Pisarenko/AP
Argentina received unprecedented support from Latin America in condemning Britain for exploring oil near the disputed Falkland Islands, which could give the South American nation a boost as it presses the issue with the United Nations today.
But the statement in support of Argentina issued by the Group of the Rio Summit, which concluded a two-day conference Tuesday near Cancún, is unlikely to make Britain budge, as it explores for potentially billions of barrels of oil in the south Atlantic around the archipelago ruled by the British since 1833.
"It's all rhetoric. The British aren't going to give in," says Riordan Roett, director of the Latin America Studies Program at Johns Hopkins School of Advanced International Studies. "The Cancún conclave will make no difference at all." (Read background and see map here.)
---