8.8 magnitude earthquake hits Chile -- tsunami warning issued
An 8.8 magnitude earthquake shook central Chile Saturday. Pacific Tsunami Warning Center has issued a tsunami warning.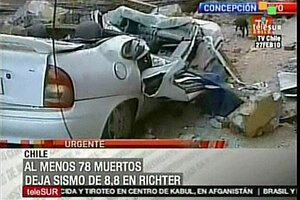 NEWSCOM
President Michelle Bachelet said there were 78 confirmed deaths and that more were possible. Telephone and power lines were down, making it difficult to make an early assessment of the damage, but serious damage was reported in two southern cities.
"Never in my life have I experienced a quake like this, it's like the end of the world," one man told local television from the city of Temuco, where the quake damaged buildings and forced staff to evacuate the regional hospital.
The U.S. Geological Survey said the earthquake struck 56 miles northeast of the city of Concepcion at a depth of 22 miles at 3:34 a.m. (1:34 a.m. ET).
In Pictures: Early images from earthquake in Chile
Chilean television and radio stations said several buildings collapsed in the city of Curico and that there was damage to buildings in the historic center of the capital Santiago, about 200 miles north of the epicenter.
The capital's international airport was forced to close, a highway bridge collapsed and chunks of buildings fell into the street. Television pictures showed cars crushed when part of a multi-storey parking garage collapsed.
Broken glass and masonry were strewn across roads in Santiago and several strong aftershocks rattled jittery residents in the hours after the initial quake.
In the moments after the quake, people streamed onto the streets of the capital, hugging each other and crying.
There were blackouts in parts of Santiago and communications were still down in the area closest to the epicenter. Emergency officials said buildings in the historic quarters of two southern cities had been badly damaged.
---
Follow Stories Like This
Get the Monitor stories you care about delivered to your inbox.