Hawaii under tsunami warning after massive Chile earthquake
Hawaii is under a tsunami warning following an earthquake in Chile Saturday morning.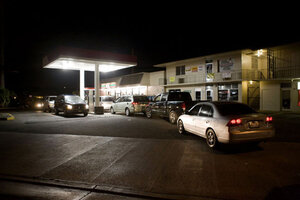 MARCO GARCIA/AP
A tsunami threatened the Pacific Rim on Saturday, with an 8.8-magnitude earthquake off Chile sending potentially deadly waves across the ocean at the speed of a jetliner.
Hawaii woke residents with sirens, alerting them to the waves. A tsunami warning — the highest alert level — was issued earlier for the island chain. Boats and people near the coast were being evacuated. Hilo National Airport, located along the coast, was closed.
Residents lined up at supermarkets to stock up on water, canned food and batteries. Cars lined up 15 long at several gas stations.
IN PICTURES: Images of the earthquake in Chili
The first waves were expected at 11:19 a.m. Saturday (4:19 p.m. ET). Most Pacific Rim nations, awaiting further data, did not order evacuations but advised people in low-lying areas to be on the lookout.
In Tonga, however, police and defense forces have begun a mass evacuation from low-lying coastal areas as they warned residents that tsunami waves about three feet high could wash ashore within three hours.
"I can hear the church bells ringing to alert the people," National Disaster Office deputy director Mali'u Takai told The Associated Press. "We will move up to 50,000 people to the interior and away from the coasts."
---