New Chile earthquake rattles presidential swearing-in
A 7.2-magnitude Chile earthquake rattled the swearing-in ceremony of President Sebastian Piñera, the country's first conservative president in more than 50 years.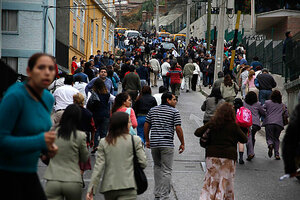 Patricio Valenzuela/Reuters
Less than two weeks after being walloped by a massive 8.8-magnitude quake that killed some 500 people and famously jolted Earth's axis, Chile put the finishing touches Thursday on a momentous political shake-up as well.
Billionaire businessman Sebastian Piñera became Chile's first elected conservative president in more than half a century, putting an official end to rule by the Concertacion, a center-left coalition that has governed since dictator Augusto Pinochet relinquished power in 1990.
But the austere ceremony – already scaled back in remembrance of quake victims – was marred by a series of aftershocks, including a 7.2-magnitude quake that struck at 11.40 a.m. local time.
IN PICTURES: Thursday's earthquake in Chile
As regional leaders looked on, Mr. Piñera bowed his head to receive Chile's red, white, and blue presidential sash, the property for the past four years of Michelle Bachelet, Chile's first female head of state. The two then stood for the Chilean national anthem – at the same time as residents in coastal communities such as Concepcion and Constitucion scrambled for the hills under a new tsunami warning.
Uribe, Morales look on; Chávez stays away
---