Unemployment among Latin America youths fuels 'lost generation'
A lost generation is emerging as unemployment soars among Latin America youths. Nearly 20 percent are neither studying nor looking for jobs.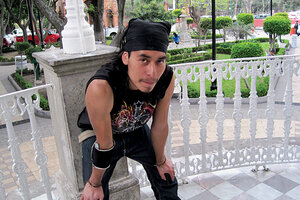 Sara Miller Llana/The Christian Science Monitor
Even in the best of times, securing one's first job can be quite the feat. But in Latin America these days, the task is gargantuan.
The financial crisis that sank some of the world's biggest banks and left record numbers of people jobless has had a particularly harsh effect on young workers worldwide. And although much of Latin America is recovering faster than elsewhere, the International Labor Organization (ILO) estimates that 600,000 young people in the region have been left unemployed by the crisis – putting a strain on governments and reversing gains made from 2003 to 2008.
Even more worrisome, nearly 20 percent of the youths in the region are neither studying nor looking for jobs, threatening to become a "lost generation," says the ILO.
"The challenges for the countries are immense. We are talking about a generation of young people who not only mark the future but the present with high levels of inactivity," says Guillermo Dema, an ILO specialist in youth unemployment for Latin America and the Caribbean. "They are frustrated, they cannot get married or start their own families. It is generating a serious problem."
Unemployment among young workers is typically about two to three times that of adults. In 2008, of 18 countries in Latin America where data was collected, 13.4 percent of young people were unemployed compared with 4.5 percent of adults.
---