Mexico killings: Gunmen kill 3 with ties to US consulate
Gunmen in the violence-plagued border city of Cuidad Juarez killed two Americans and one Mexican with ties to the US Consulate on Saturday. Authorities are still trying to assess the motive for the Mexico killings.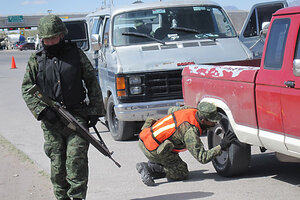 Sara Miller Llana
Two Americans and a Mexican citizen affiliated with the United States Consulate in Ciudad Juarez, Mexico, were shot to death Saturday in this violent border town, across from El Paso, Texas.
The Mexico killings drew immediate criticism from the White House.
National Security Council spokesperson Mike Hammer said in a statement Sunday that President Obama "is deeply saddened and outraged by the news of the brutal murders of three people associated with the United States Consulate General in Ciudad Juárez, Mexico, including a US citizen employee, her US citizen husband, and the husband of a Mexican citizen employee."
The deaths of the US citizens come amid a staggering death toll that increasingly includes those with no apparent ties to drug gangs. In January, a massacre at a teen birthday party killed 15, most of them young people with no known involvement in drug trafficking.
---