Mexico killings: How the drug war crippled the Juarez economy
As officials search for a motive behind the Mexico killings of US consulate employees in Cuidad Juarez, a local business group president points to the economic disaster that Mexico's drug war wrought in this industrial border city.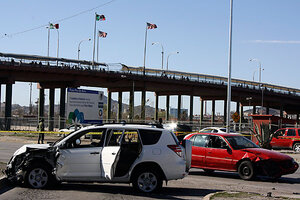 Reuters
Mexico City; and Cuidad Juarez, Mexico
Mexican officials in the violence-wracked border city of Cuidad Juarez are working hard to determine a motive for this weekend's brazen drive-by shootings of a US consulate employee, her American husband, and a Mexican citizen affiliated with the consulate.
So far, there's been no official word on whether the Mexico killings of these US government workers was a targeted attack by drug traffickers or a random act of violence. But one thing's for sure: The killings are a serious blow to a city besieged by a brutal drug war and now reeling from the US downturn and an exodus of residents and businesses.
IN PICTURES: Mexico's drug war
100,000 jobs lost
Long dependent on the US market, this industrial hub of maquiladoras (factories) has lost 100,000 jobs since the recession, says Carlos Chavira, the president of the local business group Coparmex.
A lack of American demand for the goods Ciudad Juarez produces has been the main culprit. But while Juarez is usually the first place in Mexico to feel the economic impact of US woes, it is also typically the first to bounce back.
The city's recovery has stalled because of violence, says Mr. Chavira, particularly because of lost investments in the industries of information technology, automotives, and electronics. That represents about $450 million.
---