Mexico killings: President Calderón visits Juarez to tout new social programs
President Felipe Calderón visits Ciudad Juarez today, just days after the Mexico killings of two Americans. He will tout new social programs aimed at improving life in the violence-wracked city.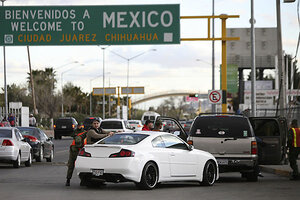 Alejandro Bringas/Reuters
If any place has spiraled downward in Mexico's bloody fight against organized crime, it is Ciudad Juarez, the grim border town where two Americans were shot dead in this weekend's Mexico killings. Here businesses get burned down if owners do not pay traffickers monthly "protection money" and residents live with the daily menace of kidnappings and daylight shootouts.
Ciudad Juarez also epitomizes Mexican President Felipe Calderón's solution to the escalating drug war that has dominated domestic politics, partnership with the US, and media parley over the past three years.
Mr. Calderón sent a surge of military troops and federal police to Juarez in 2008 to reclaim this once bustling industrial city that has always drawn poor Mexicans from across the country and from where thousands are today fleeing. But, as the government has gotten tougher against crime, crime has only increased.
IN PICTURES: Mexico's drug war
Over the weekend, an American consular employee and her husband were shot dead in their car in broad daylight with their baby, unharmed, in the back seat. Almost simultaneously, in another location, the husband of another employee affiliated with the consulate was also gunned down and killed.
---