Beyond Haiti relief, UN looks at building outside Port-au-Prince
When donor countries meet at the UN in New York this week to discuss Haiti relief, a major topic will be decentralization away from congested Port-au-Prince.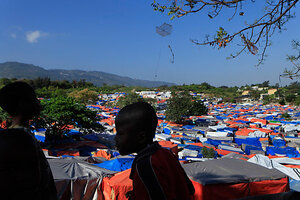 Jorge Saenz/AP
Port-au-Prince, Haiti; and Mexico City
When the international community comes together Wednesday to pledge money to help Haitian relief efforts, high on the agenda will be immediate needs, such as a push to get people into adequate housing as the rainy season nears.
But as countries convene at the United Nations in New York this week, they will be looking beyond basic relief. In fact, not just how to rebuild, but how to build a better functioning Haiti has been a dominant theme among nongovernmental organizations, the donor community, Haitians, and their officials. A primary focus: Decentralization – or creating several poles of power to balance out the dominance of Port-au-Prince.
IN PICTURES: Rebuilding after an earthquake
"What we do this week will have repercussions far down the road, says Jeff Wright, disaster response manager for World Vision, who spent six weeks in the devastated country. "Haiti seems to be a really good example of a situation in which the aid community … tried to apply lessons from some of the big disasters of the past and put long-term [priorities] up front."
---
Follow Stories Like This
Get the Monitor stories you care about delivered to your inbox.