Haiti reconstruction starts at home, groups say ahead of UN donor conference
Ahead of a major UN donors conference on Haiti reconstruction, UN envoy Bill Clinton's call for a self-sufficient island have struck a chord. Haitians and aid groups are wary of creating a 'culture of dependency.'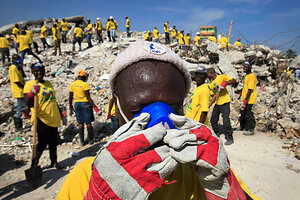 Jorge Saenz/AP
Mexico City and Port-au-Prince, Haiti
Former US President Bill Clinton, the United Nations special envoy to Haiti, made a plea to aid groups ahead of Wednesday's UN donor conference: let's make Haiti so self-sufficient that it not longer needs us.
A curious request for a nation needing $11.5 billion, it estimates, just to get itself back on its feet after the Jan. 12 earthquake. Even before the earthquake, Haiti's feet were shaky as the poorest nation in the Western Hemisphere.
But there is a growing sense that a self-reliant Haiti, starting with a government-led reconstruction, is the only way forward from the political insecurity and poverty that has dogged the nation despite billions of dollars in foreign aid.
"Every time we spend a dollar in Haiti from now on we have to ask ourselves, 'Does this have a long-term return? Are we helping them become more self-sufficient? ... Are we serious about working ourselves out of a job?'" Mr. Clinton told representatives from aid groups last week.
His suggestions included allocating 10 percent of all aid toward government salaries and training, hiring locals as translators or fixers, and funneling money toward projects that create jobs, the Associated Press reported.
'Not just a ward of state'
It is a message that resonates among Haitians, says Kathy Calvin, CEO of public charity the UN Foundation.
---