Chile earthquake takes heavy toll on historical sites
For many the Chile earthquake is over. Not for Oscar Acuña, who is racing the clock to save historical sites from demolition and further disrepair.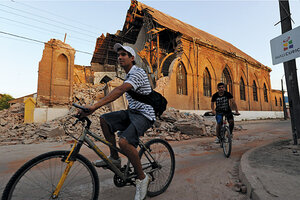 Newscom
When the massive magnitude-8.8 quake that rocked Chile on Feb. 27 reduced dozens of the country's oldest historical sites to rubble, Oscar Acuña wasted no time before dispatching teams of architects and archaeologists to assess the damage. In the capital, Santiago, the quake damaged a handful of churches and buildings in the historic districts. But in the traditional towns nearest the epicenter none was spared.
Initial assessments of 241 damaged sites include the San Salvador Basilica in Santiago and the World Heritage sites of La Matriz Church and the Port marketplace, both in the coastal city of Valparaiso.
The most extensive damage, however, occurred in the south-central regions of Maule, O'Higgins, and Biobio, where many adobe homes were destroyed.
IN PICTURES: Rebuilding after an earthquake
Mr. Acuña, executive secretary of Chile's National Monuments Council (NMC), now finds himself in a race against the clock to prevent demolition crews from erasing what remains of these culturally important sites.
"This is not the time to be hasty," Acuña says. "We're asking communities to pause before they demolish these buildings because once they're gone, the loss is total."
---