Mexicali earthquake: Damage could have been much worse
Sunday night's 7.2 Mexicali earthquake was the most powerful to hit the area in decades, but damage was limited compared with the recent tragedies in Haiti and Chile.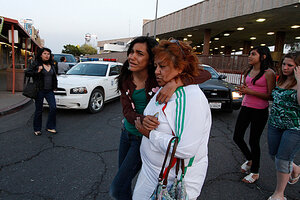 Denis Poroy/AP
The 7.2 Mexicali earthquake that struck northern Mexico and rocked swaths of the American southwest Sunday was the region's most powerful in decades - more powerful than the one that hit Haiti. It was also a relatively shallow earthquake, at six miles underground, meaning it could wreak mass destruction.
Still, the quake frayed nerves in the wake of tragedies in Haiti and Chile.
"One way or another, we have the disasters in Chile and Haiti in the back of our heads. There is a fear that it could happen to us at any moment," says Antonio Fernandez, the manager of Hotel Mexico in Mexicali, in a phone interview. "It seemed that the earth would never stop shaking, and the aftershocks are constant."
---