Why Mexicali earthquake damage is nothing compared to Haiti
Sunday's 7.2-magnitude Mexicali earthquake killed only two, despite being stronger than the Jan. 12 Haiti quake that killed more than 200,000 and made 1 million homeless. Why?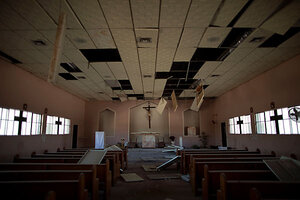 Guillermo Arias/AP
Sunday's 7.2 Mexicali earthquake was the third major quake to rattle the western hemisphere in less than three months.
The quake was more powerful than the 7.0 earthquake that left more than 200,000 dead and more than 1 million homeless in Haiti on Jan.12. It was also a relatively shallow earthquake, at six miles underground, meaning there was less earth to absorb the shaking.
But with only two reported dead, the damage is far more contained than the quake that destroyed Haiti's capital, Port-au-Prince, and the massive 8.8-magnitude quake that left 700 dead in Chile on Feb. 27.
IN PICTURES: Mexicali earthquake
One reason for the lower death toll and damage is that the epicenter of Sunday's quake was in an agricultural belt with few buildings 38 miles from the city of Mexicali in northern Mexico. The Haiti quake was only 18 miles from its densely populated capital of 2.5 million people.
"Just a little bit of distance can make a huge difference," says Don Blakeman, a geophysicist at the US Geological Survey.
---