Rio floods: Why did more than 100 people die?
Brazilians are asking why authorities were not better prepared for the Rio floods, when an estimated 11 inches of rain crashed down in just 24 hours, killing more than 100 people.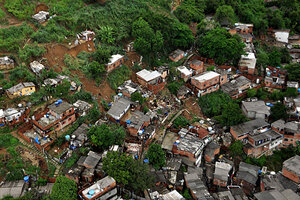 Samitri Bar, Rio de Janeiro Press Office/AP
As the torrential rains began to cede over Rio de Janeiro today, following the state's worst floods since 1966, one question was stamped onto every newspaper front-page in Brazil: Why?
Why was Rio de Janeiro – Brazil's second largest city and one with a history of tropical rainstorms and flooding – not better prepared for the catastrophe that struck on late Monday and Tuesday this week, when an estimated 11 inches of rain crashed down onto the iconic city and and its neighboring towns in just 24 hours?
With rescue attempts continuing in several of Rio's hillside slums, the city's mayor, Eduardo Paes, tried to duck questions about why the floods, which have officially claimed at least 105 lives and which brought much of the city to a standstill on Monday night and Tuesday, caused such havoc.
"At the moment, our concern is less about finding out who is guilty, who didn't foresee this enormous amount of rain, or what was not done," Mr. Paes told reporters on Tuesday.
But urban planning specialists and environmentalists have been quick to react – blaming Rio's politicians for decades of poor spending, confused housing policy, and even outright corruption.
"This was an tragedy foretold," says Sergio Ricardo, a leading Rio environmentalist. "To this day, the city does not have any kind of alert or prevention system – something that is common in other cities that are as vulnerable as Rio."
Shaky houses on the hillsides
Part of the explanation for the high death toll lies in the way in which Rio's 1,000 or so favelas have swelled since the 1950s and in how rich and poor alike have been allowed to build houses when, where, and how they pleased – often on steep, water-logged hillsides which are prone to landslides.
"We have an enormous housing deficit so many, many people have been forced to live in at risk areas," says Mr. Ricardo, who claimed previous governments had misspent or redirected Federal funds intended to help prevent such disasters.
---