Latin America confronts sexual abuse by Catholic priests
In Latin America, the response to allegations of sexual abuse of children by Roman Catholic priests has been muted relative to the recent firestorm in Europe. But some warn that if the matter isn't tackled head on, doubts about the Vatican could spread.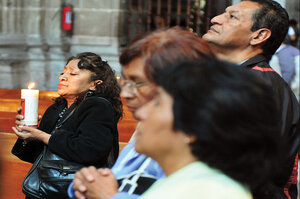 Rafael Ben-Ari/Chameleons/Newscom
Tomasa Andrade, a nurse in Mexico City, has been a Roman Catholic all her life. Praying in an empty church before a weekday mass begins, she says the controversy sweeping the Vatican over the sexual abuse of children by Catholic priests has not tested her faith. "I believe in God, not in priests," she says. "They are human and can commit the worst crimes there are."
But, she adds, her faith – and her faith in the institution – are two different things. "There should be justice," she says, adding that so far the leaders in Latin America are not taking a strong enough stance against the sex-abuse cases that have surfaced in the region and the ones across Europe now rocking the Vatican.
Latin America is home to almost half of the world's Roman Catholics; about 70 percent of the population identifies itself as Catholic. But many say the church – tested already by the growth of Pentecostalism – could face a backlash if it does not acknowledge and punish wrongdoing.
Pope Benedict the XVI has already come under strong criticism in Europe and the US for his handling of priests who sexually abused children when he was in charge of the Congregation of the Doctrine of the Faith. In a few cases, his office failed to defrock priests accused of abusing children for years.
---