Michelle Obama spotlights Haiti relief efforts
Tuesday's unannounced visit to Haiti by Michelle Obama and Jill Biden highlights progress by Haiti relief workers in the three months since the earthquake, and how much rebuilding lies ahead.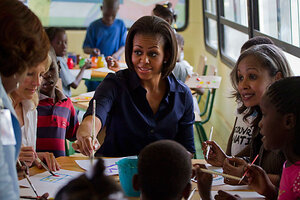 Brennan Linsley/AP
Mexico City and Port-au-Prince, Haiti
When first lady Michelle Obama spoke to workers at the United Nations Tuesday, during an unannounced visit to Haiti, the crowds broke into applause at several points. Some had tears in their eyes.
"It was a great show of support," says Haitian UN employee Christine Canal. "Now I just hope that all that goodwill will translate into something concrete for us."
That is the same sentiment expressed by international relief organizations, after Ms. Obama and Jill Biden, wife of vice president Joe Biden, landed in Haiti Tuesday morning – taking the country, and the world, by surprise.
IN PICTURES: Michelle Obama in Haiti
"It's a reminder that Haiti is still in crisis, and that rebuilding is going to take a long time," says Krista Riddley, the director of humanitarian policy at Oxfam America.
Today's stop by Obama and Biden is one of several high-profile visits to Haiti made in recent weeks, including American actor Sean Penn and Colombian singer Shakira. French President Nicolas Sarkozy and several Latin American heads of state have also been here since the Jan. 12 quake. And former presidents Bill Clinton and George W. Bush have flown in too.
---
Follow Stories Like This
Get the Monitor stories you care about delivered to your inbox.