Why Brazil signed a military agreement with the US
For the first time in three decades, the US and Brazil have a military agreement. Brazil is shopping for 36 new fighter jets, and the US is trying to counter growing Russian and Iranian influence in Latin America.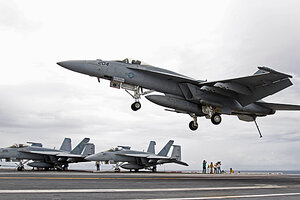 Felipe Dana/AP/File
Mexico City and Sao Paulo, Brazil
The US and Brazil signed a military agreement Monday that both nations touted as an example of partnership and transparency in the Americas.
The defense pact, the first between the two nations since 1977, opens the door to more interchange on research and development, logistics support, education and training, and the acquisition of defense products and services.
It comes as US Defense Secretary Robert Gates sets off on a tour of Latin America, including visits to Colombia, Peru, and the Caribbean – seen as part of a broader effort to strengthen ties with allies, as well as shore up support in a region that has embraced Iran and made increasing arms purchases from Russia.
But it's perhaps Brazil, where Mr. Gates had originally planned to visit before a schedule change, which has the most to gain from the deal reached Monday. "Brazil is going to get recognition, and that is very important. Future wars are going to be as much about the management of information and intelligence as they are about armaments. And Brazil doesn't know how to do that. The US is the perfect country to help us minimize that risk," says Fernando Arbache, an anti-terrorism expert in Sao Paulo who teaches at Brazil's Naval Headquarters. "With this accord Brazil is aligning itself strategically with the US, like the European nations have done with NATO."
---
Follow Stories Like This
Get the Monitor stories you care about delivered to your inbox.