Why Michelle Obama is on a surprise visit to Haiti
Michelle Obama and Jill Biden arrived in Haiti today on a surprise visit. Mrs. Obama toured the area near Port-au-Prince by helicopter and was scheduled to visit schools under reconstruction, before heading for Mexico.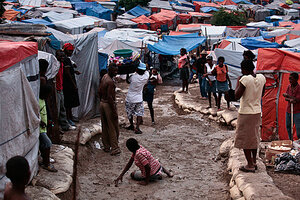 Eduardo Munoz/REUTERS
Mexico City and Port-au-Prince, Haiti
First lady Michelle Obama is making a surprise visit to Haiti Tuesday, on her first solo international trip that includes a previously announced three-day visit to Mexico.
According to the US Embassy, Ms. Obama, who is traveling with Jill Biden, wife of Vice President Joe Biden, is to meet with Haitian President Rene Preval and his wife, as well as visit schools, including one under reconstruction. Obama will also visit with UN officials and thank those involved in the massive relief effort.
Symbolically, the visit will resonate. "By and large Haitians, as well as Haitian-Americans, view her as breaking through the glass ceiling. She represents that there are no bounds," says Demian Pasquarelli, the executive director of the non-profit Florida Association for Volunteer Action in the Caribbean who was in Haiti last week. "Michelle Obama, with her connection to women's programs and education, will raise awareness and the bar for people to make sure [reconstruction] programs are effective."
---