Michelle Obama in Mexico: Lessons on fighting childhood obesity
First lady Michelle Obama met with Mexican first lady Margarita Zavala Wednesday to talk about combating childhood obesity, among other issues. Mexico's obesity strategy may hold a few lessons for the US on how to trim waistlines.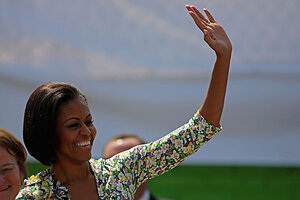 Dario Lopez-Mills/AP
Mexico's violent drug war tops the list of Mexican concerns and priorities. But a close second, if the Mexican media is any gauge, is Mexican obesity.
As first lady Michelle Obama continues her visit with counterpart Mexico's Margarita Zavala it is not the beheadings or daylight shootings that have dominated their conversations – but the ways in which to empower children.
And with Ms. Obama as the face in the fight against childhood obesity in the US, gym class and healthy snacks are likely to be high on their list of talking points.
IN PICTURES: Michelle Obama in Mexico
"It's so good that Mrs. Obama is interested in this in the US," says Juan Rivera, the director of the Center for Research in Nutrition and Health at Mexico's National Institute for Public Health. Ms. Zavala, who is well-loved just as Obama is in the US, cares deeply about the subject, too, says Dr. Rivera, even if she isn't the spokesperson of a crisis that Mexico is aggressively tackling. "I hope [Obama's] presence can contribute to a more important role for the first lady here."
---