Haiti relief: Anger, confusion as authorities relocate homeless
Haiti relief efforts to relocate mostly homeless people away from flood-prone areas before the rainy season are in full swing, but confusion is hampering the process.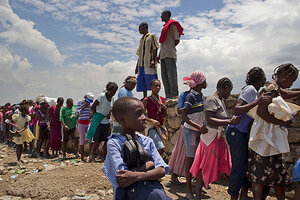 Ramon Espinosa/AP
As Haiti relief efforts focus on relocating citizens to higher, drier ground ahead of the rainy season, confusion about who's getting moved, where they're going, and how private land owners forced to leave will be compensated is running rampant.
Confusion varies from place to place, but in at least one area in the foothills above Haiti's capital, Port-au-Prince, it starts with the name.
For some, the place is called Mais 54 Caradeux. For others, Toto Camp, and yet others still, Toussaint Louverture camp, in honor of the leader of the revolution that led to Haiti's independence.
IN PICTURES: Relocating in Haiti
Regardless, the future of the 1,507 registered families living on this dusty, rolling terrain is uncertain.
About two weeks ago, government bulldozers showed up after dark and, without warning, began to level the haphazard maze of bed sheets and sticks. People grabbed what they could before their homes toppled.

Since then, more than five large patches of land on the multi-acre site have been razed. According to Joachi Thermilus, vice-president of the self appointed Mais 54 Committee, 483 tents have been destroyed. He's not sure why and doesn't know who to ask.
---