In Earth Day setback, Brazil OKs dam that will flood swath of Amazon
On the eve of Earth Day, Brazil awarded a $10 billion contract for what will be the world's third-largest dam. Brazil says it will meet urgent energy needs, while critics say it will displace thousands of people and profoundly endanger wildlife.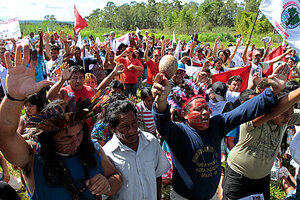 Eraldo Peres/AP
Environmentalists preparing to celebrate Earth Day received a hefty setback this week when the Brazilian government gave the green light for plans to build the world's third biggest dam that will flood a large swath of the Amazon rainforest.
The decision to grant a construction license for the Belo Monte hydroelectric plant came after a series of tense legal battles fought between environmental and indigenous rights groups and lawyers representing the government of President Luiz Inacio Lula da Silva.
The government finally won out Tuesday and awarded the $10 billion contract to a consortium of nine companies led by Chesf, a state-run electricity firm. The group could start work this year and begin transmitting power in February 2015.
With a proposed operating capacity of 11,200 megawatts, Belo Monte will be the third biggest dam project in the world behind China's Three Gorges dam and the Itaipu dam Brazil currently runs with neighbor Paraguay.
---