Mexico issues sharp rebuttal to Arizona immigration law
Citizens and officials in Mexico reacted angrily to the new Arizona immigration law signed Friday, with Mexican President Felipe Calderón saying it hindered collaboration along the border region.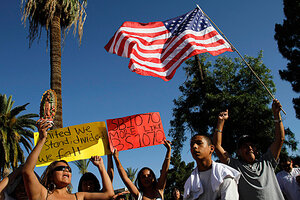 Joshua Lott/Reuters
Ana Olivera's uncles have lived in Arizona for two decades without proper paperwork, working under the radar as bricklayers and at other odd jobs. So she's steaming that the new Arizona immigration law signed Friday by Gov. Jan Brewer could get them suddenly kicked out.
"They have the right to be there, they are good workers," says Ms. Olivera, a secretary in Mexico City, even though she admits her uncles originally crossed illegally. "When Americans come here to work, we treat them with respect. They should do the same with us."
Ms. Olivera is not the only person here reacting angrily to the new immigration law, dubbed as the toughest on the books in America. Mexican President Felipe Calderón himself issued a strong rebuttal of it over the weekend.
"The criminalization of the migration phenomenon, far from contributing to the cooperation and collaboration between Mexico and the US, represents an obstacle for the solution of common problems in the border region," the president said, promising to work with Mexicans abroad for the protection of their human rights, regardless of their immigration status.
---