Arizona immigration law: Will Mexico boycotts cripple trade?
Mexico boycotts in response to the Arizona immigration law may put a dent in trade with Arizona's No. 1 partner.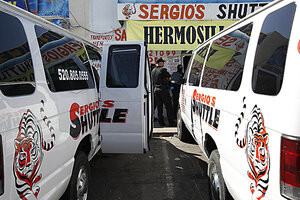 Matt York/AP/File
Mexican boycotts in response to the Arizona immigration law are blooming like desert wildflowers.
The Mexican state of Sonora canceled a cross-border meeting to be held in Phoenix in June – the first time the annual gathering will be interrupted in more than 50 years.
Independent truckers are saying they refuse to transport goods into or out of the state of Arizona.
IN PICTURES: The US/Mexico border
After the Mexican government issued a "travel alert" for Mexicans there, some Mexicans are reconsidering vacations in the state.
The new law that Gov. Jan Brewer (R) signed last week, makes it a state crime to be in Arizona without legal permission and obligates authorities to check the paperwork of those they believe in the country illegally. It has set off calls for boycotts and economic and political punishment across Mexico, and threatens to undermine the trust of Mexicans toward the border state.
"It is harmful for the state of Arizona," says Alejandro Díaz-Bautista, a professor of economics at the Colegio de la Frontera Norte in Tijuana. "It will cost some jobs. It sends the wrong message to investors in the state. It will impact tourism."
---