Bah humbug, say Mexicans about Cinco de Mayo
Cinco de Mayo is hardly recognized in Mexico. Here most people go without seeing a parade, eating guacamole, or fully knowing why today celebrates the Battle of Puebla.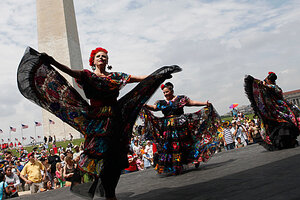 Pablo Martinez Monsivais/AP
Susana Osneya woke up today and, like any other day, she took her dog Sabrina for a walk in the park in Mexico City. She is not attending any parades, not cooking any special meals, and not attending any holiday activities with her grandchildren.
And she's certainly not drinking any margaritas.
But wait a second. It is Cinco de Mayo, the day that Mexicans and Mexican-Americans go out in droves in the US to celebrate, with American cities commemorating the day and Mexican restaurants offering special margarita deals. Isn't May 5 the biggest day on Mexico's national holiday calendar?
"Really, it is just like any other day here," Ms. Osneya says, walking off with her dog.
Despite popular misconception in the US, today is not Mexico's Independence Day. May 5 instead marks the anniversary of the 1862 Battle of Puebla when the Mexican Army defeated the French. Compared to Sept. 16, the day Mexico commemorates its independence, or Easter week, or even upcoming Mother's Day, Cinco de Mayo is practically a non-event.
Turning nothing into something
---