Mexico manhunt for missing politician Diego Fernandez de Cevallos
Diego Fernandez de Cevallos, a top member of Mexico's ruling party, was declared missing over the weekend after authorities found his car with 'signs of violence.' It comes as drug cartels are increasingly targeting top leaders.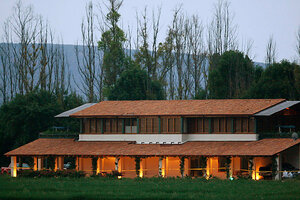 Daniel Aguilar/Reuters
A former presidential candidate in Mexico and prominent member of President Felipe Calderón's National Action Party (PAN) was declared missing over the weekend, which could be the latest escalation of violence by drug traffickers here.
The car of Diego Fernandez de Cevallos was found near his ranch in the state of Queretaro, Mexico's Attorney General's Office confirmed Saturday. Authorities say they found his belongings in the car and "signs of violence."
It was not immediately clear if he was the victim of kidnapping and whether his disappearance was at the hands of drug traffickers, but it comes amid increasing attacks on political leaders throughout the country.
Last week, gunmen killed the PAN candidate for the mayoral race in Valle Hermoso, a town near Brownsville, Texas.
Politicians targeted
Politicians have voiced concerns about intimidation in other parts of the country, especially as 10 states gear up for races this July.
The influence of organized crime on politics has been an increasing problem here.
Reginaldo Sandoval, the president of the Labor Party in the troubled state of Michoacán, told the Monitor in November that traffickers regularly corrupt and intimidate politicians, forcing some to drop out of races altogether.
---