Haiti relief: 'Cinema Under the Stars' helps Haitians move on
As Haiti relief efforts roll on, a group called Cinema Under the Stars aims to give Haitians something to be proud of by showing Haitian films to those made homeless by the Jan. 12 earthquake.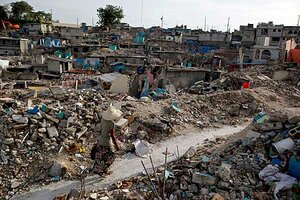 Esteban Felix/AP
Eight-year-old Isma Widline hasn't had any homework since her school was one of 3,000 to collapse during the Jan. 12 Haiti earthquake. Electricity, thus television, is spotty, and a lot of her friends have left the area.
So when she saw hundreds of people gathering around a podium assembled a few blocks from her house on a recent evening, she went to check things out.
This was not just another evening in Carrefour, the neighborhood best known now as the epicenter of the quake. Curiosity turned to excitement as Widline watched, for the first time in her life, a movie projected onto a large screen.
Her smile is what the creators of Sinema Anba Zetwal – Cinema Under the Stars – had hoped for when they founded their nonprofit nine years ago.
Composed of professional artists from various disciplines, the group's mission – to unite people through cinema, video, and the power of mass media – has become even more significant in the country's post-earthquake recovery.
"Everything that was being donated for the victims of the quake was for their belly," says general coordinator Tatiana Magloire, whose mother cofounded SAZ. "But nothing was for the head. So the theme of this four-day SAZ tour is 'Food for the Soul.' You have to feed yourself within to heal, and the best way to do that is to share and learn together in the community setting."
---