Amazon dams hold promise of clean energy for Brazil
Opponents say the environmental and social costs of flooding parts of the Amazon outweigh the energy benefits, but the $10 billion Belo Monte project and other Amazon dams hold the promise of clean energy.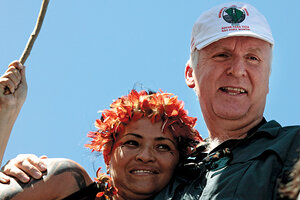 Eraldo Peres/AP
It is slated to be the world's third-biggest dam. Local authorities tried to halt it in court. But Brazil is pushing ahead with the Belo Monte Amazon dam – and has big plans for hydroelectric power elsewhere in the Amazon. Its argument for the controversial move? That it's a clean power source – and in this age of climate change, one that should be tapped.
"In this post-Copenhagen world, in which we have emissions of CO2 causing global warming, 80 to 90 percent of Brazil's energy comes from renewable sources," says Brazil's energy minister, Marcio Zimmerman, in a telephone interview.
Brazil's economy is growing at about 5 percent a year, and it needs to add energy capacity to keep up the pace of job growth and supply the needs of a growing middle class.
With hundreds of rivers still untouched, only one-third of the possible hydroelectric power is being tapped. The latest plan identifies 11 Amazonian basins in which to build dams. The dams will provide cheap, renewable energy – and controversy.
"I think asking Brazil not to use hydroelectric power would be like asking Saudi Arabia not to use oil," says Luiz Pinguelli, the former head of Eletrobras and now director of Coppe-UFRJ, an energy studies center. "The government didn't handle the Belo Monte affair well, but Brazil should still build more dams. How they go about it is another story."
---
Follow Stories Like This
Get the Monitor stories you care about delivered to your inbox.