Jamaica attacks: a legacy of ties between politicians and gangs
What do Dudus Coke, Jah-T, and Jim Brown all have in common? They're all related, connected to the ruling Jamaica Labour Party, and their Kingston gang ties have helped spark multiple Jamaica attacks.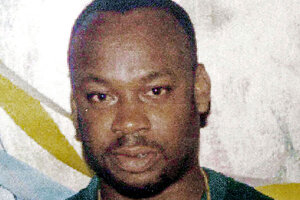 The Jamaica Gleaner/AP
When the US presses for the extradition of an alleged drug lord from Jamaica, it might seem a straightforward request.
But as the Jamaica attacks of the past three days have demonstrated, dealing with organized crime in Jamaica is full of perils, from gangs that have the muscle to stand up to the state, to gang-leaders who have helped put members of the political elite in office. And this sort of stand off has happened before.
Three days of violence since Prime Minister Bruce Golding said his government would abandon its nine-month fight to prevent the extradition of alleged Shower Posse boss Christopher "Dudus" Coke to the US have claimed at least 31 lives in Kingston. The US alleges (pdf download of US indictment) that Mr. Coke presided over a drug empire that imported tens of millions of dollars of cocaine and marijuana into the US between 1994 and 2007, and reexported both money and US guns to Jamaica.
---