Guatemala City sinkhole so big, so round it 'doesn't seem real'
More than 178 people across Central America have been killed since Tropical Storm Agatha lashed the region with heavy rains on Saturday, leaving a giant Guatemala City sinkhole. How big is Guatemala's sinkhole?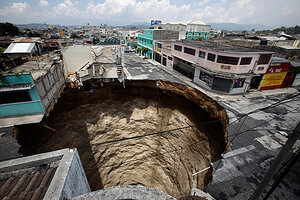 Daniel LeClair/Reuters
Santo Domingo, Dominican Republic
From the air, the giant Guatemala City sinkhole appears so perfectly round and deep that photos of it almost look doctored.
Up close on the ground, "the only way to describe is to say it's huge," says David de Leon, the spokesman for the country's disaster response agency, CONRED, who was reached by phone. "It doesn't seem real."
Rains from Tropical Storm Agatha opened the sinkhole in the residential zone 2 of downtown Guatemala City on Saturday night. CONRED estimates it is 100 feet deep and 65 feet across.
IN PICTURES: Guatemala sinkhole
"I've been to the site and I think it must be bigger than that," says Mariela Castañón, a reporter for the daily newspaper La Hora.
Hole swallows building, telephone poles
Neighbors told Ms. Castañón that the ground collapsed suddenly, taking a three-story house that was used as factory, and a security guard with it. Authorities said they could not confirm the security guard's death. He's listed as missing.
As the hole opened "it sucked in electricity poles and the neighbors around there were left without electricity," she says.
The country's human rights ombudsman said 300 people living near the sinkhole were in danger and he pledged to investigate what caused it to open.
---