Tropical Storm Agatha floods kill 150, cause giant sinkhole in Guatemala City
Flooding and landslides from tropical storm Agatha have killed more than 150 people throughout Central America in the past few days, and apparently caused a giant Guatemala City sinkhole.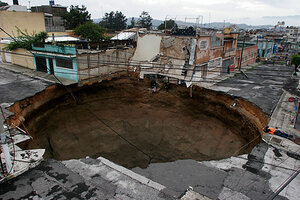 STR/AP
Villagers have been buried alive in Guatemala. Residents, caked in mud, have searched in the wreckage of their homes for loved ones. Aerial photos show entire swaths of the nation's coffee crop under water. Then, there's the giant Guatemala City sinkhole.
The Atlantic hurricane season opens today, preceded by the Pacific one just weeks earlier, but already seasonal weather – coupled with volcano eruptions and other freak accidents – has battered Central American nations.
IN PICTURES: Guatemala sinkhole
More than 150 people have been killed, mostly due to flooding and landslides, after tropical storm Agatha, the first Pacific storm of the season, struck Guatemala Saturday, impacting El Salvador and Honduras as well. Thousands across the region are homeless.
The worst hit nation is Guatemala. In the Chimaltenango Province, west of Guatemala City, landslides buried dozens of communities, leaving at least 60 dead.
---