Joran van der Sloot captured in Chile
Chile police have detained Joran van der Sloot, a Dutch poker player and a prime suspect in the death of a woman in Peru. Van der Sloot was also a suspect in the 2005 disappearance of American tourist Natalee Holloway in Aruba.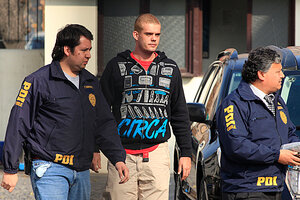 Roberto Candia/AP
The manhunt for Joran van der Sloot is over.
Mr. van der Sloot was taken into custody by Chilean police, after a taxi he was riding in was stopped around midday on Route 68 coming from the coastal city of Viña del Mar, Douglas Rodriguez, Chile police inspector in Arica, told the Monitor.
Chilean police say van der Sloot is being held in Santiago, and they are awaiting orders on how to proceed with the Dutchman.

"He will either be returned to Peru or released under supervision in Chile, however both paths eventually lead to his return to Lima," says Inspector Rodriguez.

Van der Sloot – once a suspect in the 2005 disappearance in Aruba of US teen Natalee Holloway – is wanted n Peru for questioning in the case of 21-year-old Stephany Flores, found dead in a Lima hotel room Wednesday.

On May 31, Mr. van der Sloot, entered Chile on a tourist visa, accompanied by two Peruvians, who returned to Peru three hours later, according to Chilean police.
---