Children of Argentina media magnate forced to undergo DNA testing
The adopted children of Ernestina Herrera de Noble, the largest shareholder in Argentina media conglomerate Grupo Clarin, are being forced to undergo DNA testing to find out if their mother was one of those 'disappeared' during Argentina's dirty war.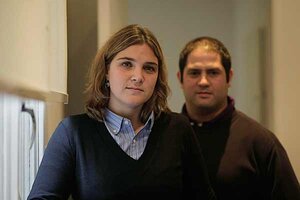 Natacha Pisarenko/AP
A feud between Argentina's president and the owners of the country's largest newspaper is intensifying, with President Cristina Fernandez de Kirchner's supporters hoping that a court-ordered DNA test will prove that a press tormentor had ties to government-sponsored killings during Argentina's infamous Dirty War.
Marcela and Felipe Noble Herrera are the adoptive children of Ernestina Herrera de Noble, the largest shareholder in Argentina's Grupo Clarin, which controls Argentina's largest newspaper and cable network, and one of the largest television stations. They are heirs to a $1 billion fortune and, according to activists, the children of one of the roughly 30,000 Argentines murdered, or "disappeared," during Argentina's last dictatorship, which ended in 1983.
Children of the disappeared were sometimes illegally adopted by families close to the regime, and activists allege that's what happened in the case of the younger Nobles, something that could lead to jail time for their adoptive mother. But the children have refused to undergo genetic testing for a criminal investigation launched in 2001, saying their privacy is being violated.
A court-ordered test was scheduled to begin today based on clothing the Noble's turned over to the court. DNA results are likely weeks away.
---