Mexico vs. South Africa: Mexicans realistic about World Cup prospects
In the opening World Cup match Friday morning, Mexico will come to a standstill to watch Mexico vs. South Africa. But only 20 percent of Mexicans think their team will advance to the semi-finals.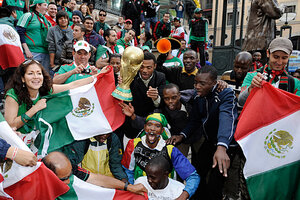 Martin Meissner/AP
Around the world, work, play, and school will grind to a halt during World Cup matches.
Mexico is no different. Government officials here are admonishing employees that absences during the World Cup will not be tolerated. But expect TVs to sprout in many office cubicles.
And while Mexican education authorities say school won't be canceled, the inaugural game Friday morning, featuring Mexico vs. South-Africa, can be watched on TV in class.
Polls show 90 percent of Mexicans are interested in the month-long global soccer tournament – including their president, Felipe Calderon, who is expected to attend the opening game in South Africa Friday.
IN PICTURES: Top Ten Players to Watch
Mexico has never made it past the quarter finals, and less than 20 percent say in a new poll that they believe Mexico will make it beyond there this year either.
Still, as its team, "El Tri," opens the 2010 World Cup in the debut game against hosts South Africa, passions are high – even if expectations are more muted.
"Mexicans love soccer and love the Virgin of Guadalupe," says Enrique Muñoz, a university student, just as a young woman approaches passing out fliers from a coffee shop advertising World Cup breakfast specials for the inaugural game. "Even those who do not love soccer still love watching the World Cup."
---
Follow Stories Like This
Get the Monitor stories you care about delivered to your inbox.