Hostages freed ahead of Colombia election runoff
Three high-level hostages were freed in a surprise jungle raid this weekend, boosting the campaign of conservative presidential candidate Juan Manuel Santos just days before the Colombia election runoff.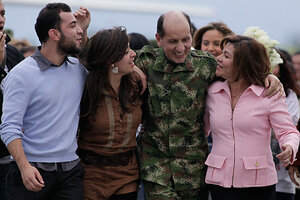 Ariana Cubillos/AP
Three high-ranking Colombian police officers and an Army sergeant were reunited with their families Monday after they were rescued from a jungle camp where they had been held by leftist rebels for nearly 12 years.
It's a serious blow to the Revolutionary Armed Forces of Colombia (FARC) guerrillas that was also expected to give conservative former Defense Minister Juan Manuel Santos a boost as the frontrunner in next week's presidential election runoff.
Police Gen. Luis Herlindo Mendieta, Col. Enrique Murrillo, and Sgt. Arbey Delgado were rescued on Sunday; Col. William Donato who apparently fled when the rescue operation began was found Monday hiding under dead leaves and a plastic tarp. They had all been held by FARC rebels since being captured in guerrilla attacks in 1998.
Still bearing the chains they were forced to wear around their necks in their captivity, the men descended from a transport plane to embrace their families. "They have arrived with the chains of torture, but with freedom in their hearts," said Defense Minister Gabriel Silva.
---