Hugo Chávez sees support fade, even in Venezuela strongholds
Support for Venezuela President Hugo Chávez has fallen as problems have mounted for an economy battered by falling oil prices.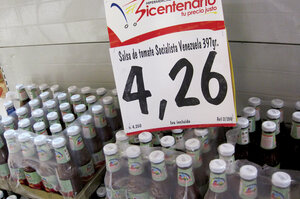 Sara Miller Llana
Getting to Jesus Cerezo's neighborhood in the hilltop barrio of El Valle, one of the poorest areas in Caracas, requires a four-wheel-drive vehicle capable of navigating the steep, narrow curves up the side of the hill, past piles of garbage and tire-eating potholes.
But home offers no sigh of relief for Mr. Cerezo, the owner of a small grocery store. He works behind a locked gate out of fear of robbery and general violence. And, he says, he knows who's to blame: Venezuela President Hugo Chávez.
"Despite all their promises, the government is not attacking the problems at their origin," he says.
Prior to the 2006 presidential elections in Venezuela, El Valle was overflowing with Venezuelans who backed Mr. Chávez. Residents spoke with a sense of hope, of their new "missions": literacy programs, health clinics, and low-priced food. Chávez won that election in a landslide.
Today, his support is still strong here, as well as in many places throughout the country, especially marginalized areas. But many of the benefits from the social missions are being overshadowed by the larger problems afflicting Venezuelan society now, such as crime and inflation. And Chávez's support ahead of crucial legislative elections in September is waning.
---