Argentina fans who doubted Diego Maradona: 'Please forgive us!'
After leading Argentina to the 1986 World Cup championship with his notorious 'hand of god,' Diego Maradona fell from grace among countrymen. He's now proving himself again as a soccer icon.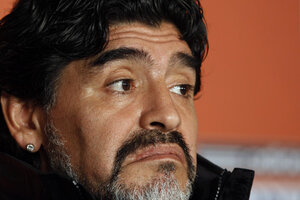 Ricardo Mazalan/AP Photo
Going into the World Cup, only a few deeply committed fans had faith that super-star-player-turned-coach Diego Maradona could lead Argentina to their third title.
But after four convincing victories, including an easy 3-1 win over Mexico on Sunday in the first elimination round, Argentina looks like the Cup favorite. Heathens here in Argentina have become believers, blasphemes have repented, and Maradona (so far) has proved his worth in this country where futbol is religion.
"I didn't have faith in him, I didn't think he was ready to be a coach," says Dario Schvarzstein, a filmmaker from Buenos Aires.
Mr. Schvarstein's doubt was understandable. During World Cup qualifiers, Argentina failed to live up to expectations, barely squeaking through the South America group by winning the last automatic slot. Maradona seemed unable to inspire Argentina's star player, Lionel Messi. He had trouble putting a team together.
In an unofficial poll last October on the website of the country's largest daily, Clarin, 86 percent of 14,000 voters believed that Maradona could not help his team improve.
But the turbulent pre-Cup period now seems like simply a test of true believers.
"Have I repented?" asks Lucas Vargas, a policeman who says he didn't trust Maradona before the cup. "Obviously!" Mr. Vargas has watched the games at a cafe on his beat, saying that the streets are empty during the matches, leaving him little else to do but watch.
---