Six months after the Haiti earthquake, what progress?
Six months after the 7.0 Haiti earthquake caused one of the worst humanitarian disasters in modern times, the worse-case scenarios have been avoided. Yet tens of thousands still live in camps.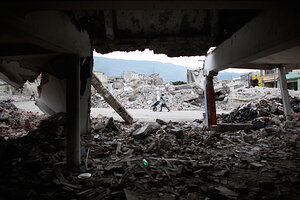 Alexandre Meneghini/AP/File
Port-au-Prince, Haiti; and Mexico City
At 4:53 p.m., exactly six months ago today, Haiti was ravaged by a 7.0 earthquake that killed more than 230,000 people, left 1.5 million homeless, and created what aid groups have called the most complex humanitarian crisis of modern times.
Six months on, there are efforts to hail. As the international aid organization Oxfam points out, for example, the massive scale of aid response has helped prevent what, in the early days, seemed like a probable worse-case scenario for Haiti: widespread riots for water or housing. Neither has there been, to date, a major outbreak of water-borne disease.
But for far too many Haitians, life has changed little since the moments after the temblor, with many still living in precarious make-shift camps, living day by day, with few prospects for work, and fearing a new disaster as the hurricane season gets underway.
OPINION: Business solutions to Haiti's poverty
In the Champs de Mars camp that sprung up spontaneously in front of the National Palace right after the quake, life looks less "temporary" by the day. Very few people there seemed to notice that today marks six months since the earthquake, and that, across the street, President René Préval and former US President Bill Clinton were commemorating the solemn anniversary.
---