New lives for sex workers in the Dominican Republic
In the Dominican Republic, nuns run an entrepreneurship program that builds on their success in 14 countries. They offer sex workers medical help and job training.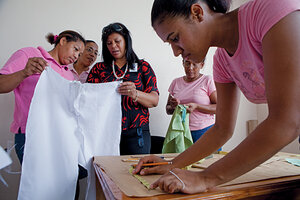 Melanie Stetson Freeman/Staff
Haina, Dominican Republic
The pink-walled room is filled with the buzz of hair dryers and chatter, the women in their blue T-shirts alternately giggling and focusing intently at the beauty tasks at hand: setting curlers, painting nails, straightening a classmate's hair.
Today's class focuses on relaxers and other products that help tame the coarse hair that most women try to hide in this Caribbean nation, which shares a border with Haiti. But the overall lesson is the same as it is every day in the well-scrubbed Centro Nuestro Espiranza, a school and community center run by the Oblatas order of nuns in this port town outside the capital, Santo Domingo.
"We tell them that prostitution is not a job," says Angelica Segobiano Noyola, a Mexican nun who has been helping run the center for a year and half. "With training, they have other options for their lives."
Ms. Noyola and the other sisters of the Oblatas del Santisimo Redentor are trying to pave another path for Dominican women – following a pattern of intervention they have established in 14 other countries across the Spanish- and Portuguese-speaking world. For 16 years, they have worked quietly here, earning praise from local authorities and grass-roots organizations such as the United Movement of Women, an increasingly influential organization of former and current Dominican sex workers.
The nuns start out by going to the bars and brothels where the prostitutes work and talking with them about self-esteem and HIV. They bring supplies for jewelrymaking, and work on some craft projects. They offer to bring them for medical checkups and then encourage them to come to the center to take some of the many courses they offer: beauty, baking, sewing, candlemaking, basic literacy.
---