Colombia and Venezuela spar over FARC rebel charges
Venezuela recalled its ambassador after the outgoing Colombian government charged that its neighbor harbors FARC rebels. The charges could short-circuit a potential thaw in ties as president-elect Santos prepares to take office.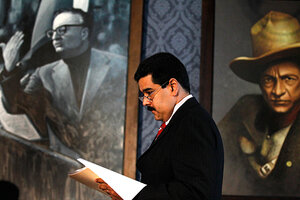 Jorge Silva/Reuters
Just as a thaw in icy relations between Colombia and Venezuela seemed possible, Colombia's outgoing government openly accused its neighbor of tolerating the "continued and permanent" presence of top leftist rebel leaders.
Defense Minister Gabriel Silva presented video and documentary evidence of the presence in Venezuela of at least four senior leaders of the Revolutionary Armed Forces of Colombia, FARC, and one of the National Liberation Army, ELN, to a hand-picked group of news directors of local media Thursday.
On Friday, the government said in a statement it was considering taking the issue up before "international instances."
It was not immediately clear how the accusations from the administration of President Alvaro Uribe – who steps down Aug. 7 after eight years in power -- would affect budding efforts by president-elect Juan Manuel Santos to patch relations with neighbors, which he has said would be a priority in his government.
But Venezuela rejected the claim, calling it a "desperate attempt" to harm relations between the two countries. It recalled its ambassador to Colombia Friday, saying that he would help "evaluate a series of measures" that Venezuela might take in response.
---