Deadly cold snap hits Argentina, Uruguay, Chile
Record cold temperatures hit several South American nations, including Argentina, Paraguay, Bolivia, Chile, and Uruguay, leaving more than two dozen people dead.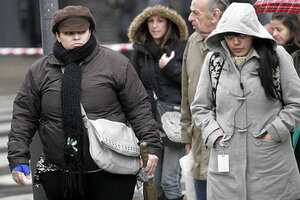 Newscom/File
An intense cold front is rearing its head across South America, killing dozens, closing down highways, and killing cattle across the Andes.
At least 26 people have died in Argentina from a combination of exposure to harsh climates, poisoning from carbon monoxide inhalation, and other factors, according to the Associated Press.
The front, which set in Saturday, has remained over many of the countries in the Southern Hemisphere, which are in the height of winter now.
As authorities respond to shelter for thousands in need, the cold snap could wreak havoc on farmers for months to come. Argentina is just coming out of one of its worst droughts in five decades, which saw cows dying and grassland shriveled last year. In neighboring Paraguay, authorities say approximately 1,000 cattle have frozen to death.
Ten people have died in Paraguay, while in Uruguay, two deaths have been reported due to low temperatures as of Tuesday. The Andina news agency reports that pregnant alpacas in Peru have been losing their babies.
As one reader noted on the CNN website: "I think many people are failing to realize that in some parts of these countries there is no infrastructure to handle these temperatures. While it may seem like a mild winter to some of us in the US, these places do not have similar well-heated homes. Some of them live in basic shacks."
---