Penguin deaths on Brazil's beaches caused by unusual currents
Penguin deaths on the beaches of São Paulo state in Brazil may be caused by hunger or exhaustion after coming in search of food.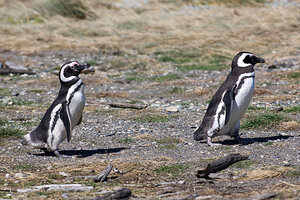 Newscom
Penguins and Brazil go together like chalk and cheese. And yet the wee, fat birds have been in the news here all this week after some 500 Magellan penguins turned up dead on beaches in and around Peruibe, 80 miles south of São Paulo, Brazil's biggest city.
Vets think they died of hunger or exhaustion after coming in search of food.
"They come on the currents looking for food. Many of them are young and inexperienced and when they don't find food they keep coming with the currents and eventually find themselves in Brazilian waters," says Rafael Ramos, a vet at the Peruibe Aquarium who performed autopsies on some of the dead animals.
"Because they have come so far, they are weak. We think they died of hunger or exhaustion. They had nothing in their stomachs," he says in a telephone interview today with the Monitor.
A recent cold front that brought high wind and rough seas tired the birds out even further, Mr. Ramos adds.
It is normal for Patagonian penguins to swim north in the southern hemisphere's winter in search of sardines or squid. They catch the wrong current and wash up in exotic locales such as Rio de Janeiro or Bahia.
---
Follow Stories Like This
Get the Monitor stories you care about delivered to your inbox.