Hugo Chávez oil threats: Why Chávez won't cut off oil to the US
Venezuelan President Hugo Chávez threatened to cut off oil to the US on Sunday. The latest Chávez oil threat comes amid a rising diplomatic spat with neighboring Colombia, a staunch US ally in the region.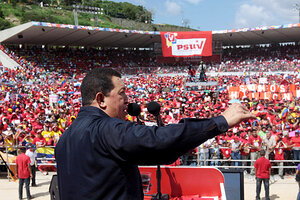 Miraflores Palace/Reuters
As Latin American leaders rush to defuse tensions between Colombia and Venezuela, severed last week over new allegations that Venezuela is harboring leftist guerrillas, Venezuelan President Hugo Chávez is seeking to cast attention much farther north.
On Sunday Mr. Chávez threatened to cut oil supplies to the US, should a military attack come from Colombia.
"If there was any armed aggression against Venezuela from Colombian territory or from anywhere else, promoted by the Yankee empire, we would suspend oil shipments to the United States, even if we have to eat stones here," Chávez said Sunday. "We would not send a drop more to US refineries."
IN PICTURES: Destructive Oil Spills

This is not the first time that Chávez has threatened to cut off oil to the US, or charged the US and Colombia of plots to attack Venezuela, but most analysts have discarded the threats as empty. Although Venezuela has expanded its trading relationship with Asia, the US is still its main oil customer. Venezuela sends the US about a million barrels a day, according to the US Energy Information Administration.
---