Arizona immigration law 2010: As SB1070 takes effect, Mexicans say 'Adios, Arizona'
Arizona immigration law targeting immigrants has already encouraged Mexicans to begin returning home, even as a US judge halted key portions of SB1070 from taking effect. The Mexico government is boosting legal services in Arizona, and shelters in Sonora state are preparing for an influx.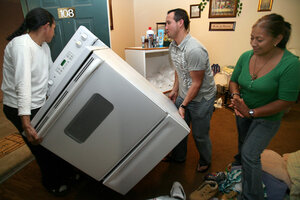 Aurelia Ventura/La Opinion/Newscom
Mexico is gearing up for a possible influx of deportees after a controversial Arizona immigration law took effect Thursday, even as a US judge blocked key provisions of SB 1070.
The country is stocking immigrant shelters with food and beds and is sending human rights observers to border crossings to make sure repatriated Mexicans are not mistreated.
A Phoenix federal judge issued a temporary court injunction on Wednesday, halting the requirement that police check the immigration status of suspected illegal immigrants. But the judge left intact the law's prohibition on stopping a motor vehicle to pick up day laborers and knowingly employing illegal workers.
IN PICTURES: The US/Mexico border
Despite the injunction, Mexico's five consulates in Arizona remain on high alert and have been working through past weekends to represent migrants with civil rights complaints and to inform communities about the law, the Mexican government said.
Mexican government prepares for fallout
"We will increase our consular presence in Arizona detention centers as well as our permanent communication with [US] federal authorities to stay informed about any incident that involves a [Mexican] citizen," the Mexican Foreign Affairs Ministry said in a statement Wednesday.
---