Nicaraguans say US turns blind eye to abuses of Daniel Ortega
Nicaragua President Daniel Ortega has been accused of rigging elections, manipulating the Supreme Court, and threatening the press. Unlike during his term in the 1980s, this time Washington has other problems to deal with.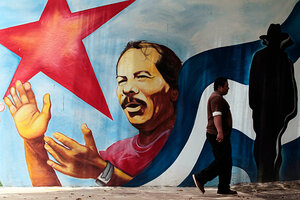 Oswaldo Rivas/Reuters
Twenty years after the US-funded contra war ended and Nicaragua faded from the US nightly news, aging Sandinista leader Daniel Ortega – who returned to the presidency democratically in 2007 – is again being accused of pushing this small Central American nation back toward dictatorship.
Only this time around, the United States government may be too distracted by problems in other parts of the world to bother with Nicaragua. At least that's the perception here.
In the past two years, Mr. Ortega has been accused of rigging the 2008 municipal elections, manipulating the Supreme Court to get a green light on his reelection aspirations, usurping powers from the National Assembly, illegally replacing democratically elected mayors, threatening free press, and cracking down on opposition protests. Concerns over the Sandinistas' commitment to democracy have led to the US and EU canceling some $190 million in development and budgetary aid over the past two years.
Headlines in Nicaragua's opposition dailies read like cries of distress: "Sandinista Dictatorship Established in Supreme Court," "Dictatorship Thanks to Weakened Opposition," "Dictatorship, Step by Step."
---
Follow Stories Like This
Get the Monitor stories you care about delivered to your inbox.