Venezuela election: Hugo Chávez's largest challenge yet
A united opposition in Sunday's Venezuela election could gain seats in the legislature and limit President Hugo Chavez's power as citizens grow weary of poverty and crime.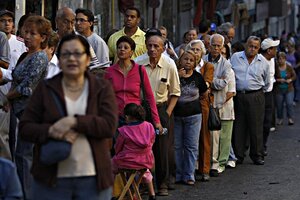 Fernando Llano/AP
Venezuelan President Hugo Chávez is facing his biggest electoral challenge in years as opponents seek to gain seats in the legislature amid recession, and Venezuelans confront a crime wave that has touched most families.
"I don't know who I'm voting for," Erika Alvarez says while on a lunch break from her job as a vehicle finance assistant. "I support the president, but we need new deputies who do their job."
Citizens who have traditionally voted with the president are giving opposition leaders hope that they can win at least a third of the legislature's seats during Sunday's parliamentary election. While Mr. Chávez's approval rating hovers at 50 percent after almost 12 years in office, critics aim to capitalize on voter dissatisfaction and unify around opposition candidates – a shift in strategy from their 2005 election boycott, which merely handed power to Chávez allies. The half-dozen major opposition parties will likely use any wins to start jockeying to pick a challenger to take on Chávez in 2012.
Crime and the economy come up time and again in conversations with both supporters and opponents of the self-proclaimed revolutionary socialist. For Ms. Alvarez, the crime wave came close to home last year, when her neighbors were murdered. The neighborhood erected a wall and security gates, but she no longer goes out to enjoy the tropical nights after 8 p.m. "One of the main things the assembly has to look into is a plan to reduce violence," she adds. "Many of my friends have been robbed, and there's no justice."
Socialist domination
---