Haiti election campaign opens amid anger over candidate exclusions
The exclusion of populist party Fanmi Lavalas and other contenders heightens concerns that the Haiti election will fail to introduce leaders closer to voters' core concerns.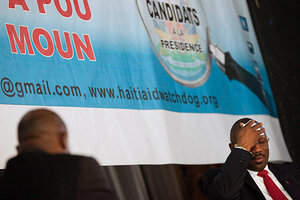 Allison Shelley/Reuters
In Camp Immaculate, a tent-city for many of the 1.5 million Haitians made homeless by the Jan. 12 earthquake, hundreds of protesters gather regularly to tap out rhythms with bits of debris and chant in the noon-day heat: "No voting under tents!" and "Down with Préval!"
Central to their anger is the belief that elections scheduled for Nov. 28 have been rigged in advance. These partisans of the popular leftist party Fanmi Lavalas (FL) blame an electoral commission appointed by President Rene Garcia Préval for banning the party from contesting the upcoming poll.
As the campaign season officially began today, the anger and disillusionment on display in places like Camp Immaculate was evidence of how few Haitians believe the process will deliver a fair outcome.
On top of banning the FL, the party of former President Jean-Bertrand Aristide that has won every election it has contested, the Provisional Electoral Committee (CEP) disqualified a number of candidates, among them the hip-hop star Wyclef Jean and former ambassador Raymond Joseph.
Maintaining the status quo?
Signs that this will not be a clean election have been in evidence for months. The US Senate Committee on Foreign Relations warned in a July report (pdf) that the exclusion of FL and the failure to reform the CEP could compromise the elections' legitimacy.
---
Follow Stories Like This
Get the Monitor stories you care about delivered to your inbox.