Venezuela election checks power of Hugo Chávez
The Venezuela election on Sunday saw the political opposition gain more than one-third of seats in legislature, enough to stymie Hugo Chávez's future initiatives.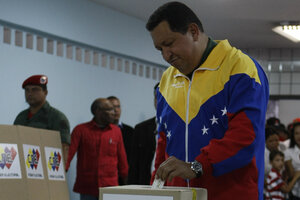 Leonardo Ramirez/AP Photo
Venezuelan President Hugo Chávez may have to learn to negotiate with opposition parties that he recently pledged to "pulverize." Sunday's elections saw his political opponents win more than 50 percent of the popular vote and more than one-third of seats in the country's legislature.
"The legislature can now can begin to debate," said Miguel Octavio, who writes the anti-Chávez blog "The Devil's Excrement," after the initial results were released at 2 a.m. "They can't approve anything important without opposition votes."
Since opposition parties boycotted the last elections, in 2005, the 165-seat legislature has been controlled by lawmakers friendly to Mr. Chávez, most of whom joined the new United Socialist Party, or PSUV. PSUV deputies gave Chávez the green light to eliminate presidential term limits, create citizen militias, nationalize entire industries, and exchange oil for Cuban expertise.
Chávez as recently as Sunday said the PSUV should "accelerate the crushing and demolition" of the opposition, and set a goal of keeping two-thirds of the legislature in friendly hands to keep the opposition from blocking appointments of top officials and opening investigations.
Failure to reach that threshold did not stop Chávez from claiming victory, however. "We've obtained a solid victory," Chávez wrote early Monday morning on Twitter. "We must keep strengthening the revolution. A new victory of the people. I congratulate everyone."
---