Ecuador coup attempt? President Rafael Correa attacked in police revolt.
Ecuador coup attempt? On Thursday, President Rafael Correa was attacked, a state of emergency was declared, and police across the country revolted.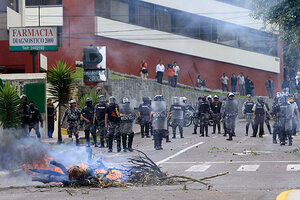 Guillermo Granja/Reuters
Ecuador President Rafael Correa was holed up in Quito on Thursday afternoon after being attacked by police angered over changes to their job benefits.
In the aftermath of that attack, police across the country revolted, a state of emergency was declared, and flights into the country were canceled. While what exactly is going on in the Ecuadorian capital is still being sorted out, some fear the South American nation could be witnessing its second coup in a decade.
"What started as a rebellion over salaries could end in something tragic," says Ramiro Crespo, president of Analytica Securities in Ecuador.
Mr. Correa, who was only lightly injured, later charged opposition figures, the police, and the military of attempting a coup détat. His leftist ally in Venezuela, President Hugo Chávez, wrote over Twitter: "They are trying to oust President Correa."
The crisis erupted when Correa attempted to enter a police barracks in Quito to mollify officers angry at Wednesday's passage of a law that cut bonus pay and extended the time period for receiving promotions, from five years to seven. The law has not yet been published so is not in effect.
---